Bio Grad Awarded Fulbright Grant to Study in Uruguay
JUNE 30, 2008
By Kim McDonald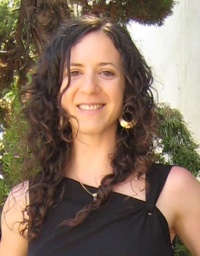 Biology grad ('08) Alexandra Anastasopulos has been awarded a Fulbright U.S. Student scholarship to study public health in Uruguay. She is one of about 1,450 U.S. citizens who will travel abroad for the 2008-09 academic year through the Fulbright U.S. Student Program.
"I owe all my accomplishments to my parents, employers and the faculty and staff at UCSD who have acknowledged the little steps, encouraged me to persevere and to never give up on my dreams," says Anastasopulos.
Born and raised in Buenos Aires, Argentina, where her family still resides, Anastasopulos moved to Los Angeles 11 years ago. On arriving in LA, she found a job as a dog groomer and eventually began studying at Santa Monica College. She had to work full time while attending college but finally transferred to UCSD in 2004. Here she majored in Biochemistry and Cell Biology and plans to pursue a career in medicine.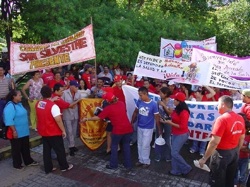 "I believe my strength as a Fulbright applicant was the combination of both my well roundedness and my strong academic record and research experience in the sciences," notes Anastasopulos. "This would not have been possible without the unique faculty at UCSD. My biology professors and mentors, including Mandy Butler, Mel Green, Douglass Forbes, George Fortes, Randy Hampton, Ramlah Nehring, Julian Schroeder, and Charles Zuker, were inspiring examples and brought out the best in me. I would like to extend my appreciation to them in helping me gain the confidence and passion it has taken to qualify for the Fulbright."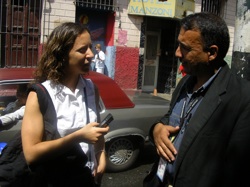 Through the UCSD McNair program she participated in a public health project in Caracas, Venezuela, an experience she believes was crucial to her success in becoming a Fulbright Scholar. Says Anastasopulos, "My mentor in the McNair program, professor Charles Briggs, encouraged me to learn about race and inequality in health care both in the U.S. and in Venezuela."
In Venezuela, Anastasopulos interviewed patients and doctors participating in an innovative health care program called "Barrio Adentro." The program's goal was to provide unlimited health care services to the 80% of the population living in critical poverty. In a unique international cooperative model, 20,000 doctors had come toVenezuela two years prior to her visit to install this new health care system in exchange for oil. "Though they had very limited resources, they made a world of difference," notes Anastasopulos. "They managed to prevent a myriad of health problems through patient education. I saw their proficiency with the patients as a truly pioneering scientific endeavor, one that inspired me to pursue both public health and scientific research at UCSD."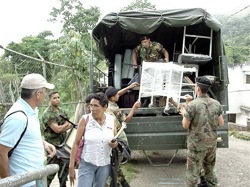 "My goal to become a physician stems from a strong desire to serve the community and a wish to help underrepresented minorities take an active role in their own health care decisions. As an assistant to two physicians in the U.S. and through my experiences abroad, I have witnessed sometimes unnecessary pain and suffering and the transformative effects for the giver and receiver of a hand offered in service. The drive that I derived from these experiences motivated me to excel at school and persist through difficult times. I hope to continue to pursue excellence in academics, medical research and public health, first as a medical student and then as a dedicated and inspired medical practitioner."
The Fulbright Program, America's flagship international educational exchange program, is sponsored by the U.S. Department of State, Bureau of Educational and Cultural Affairs. Since its establishment in 1946 under legislation introduced by the late Senator J. William Fulbright of Arkansas, the Fulbright Program has provided the opportunity for approximately 108,000 Americans to study, teach or conduct research abroad. The program's goal is to encourage the exchange of ideas and joint ventures of importance to the general welfare of the world's inhabitants. The program operates in over 155 countries.