Biologist Elected to German National Academy
Plant biologist Julian Schroeder honored with membership in Leopoldina
July 5, 2017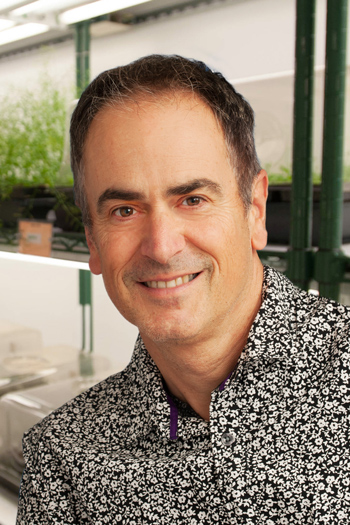 By Mario Aguilera and Kim McDonald
Julian Schroeder, a distinguished professor of biology at UC San Diego, has been elected to the Leopoldina, the German National Academy of Sciences.
According a statement from the academy, "Scientists are elected as members who have distinguished themselves by academic achievements of excellence." Founded in 1652, the Leopoldina is one of the oldest academies of science in the world, dedicated to the advancement of science for the benefit of humankind and to the goal of shaping a better future. With some 1,500 members, the academy brings together outstanding scientists from Germany, Austria, Switzerland and many other countries.
Schroeder, a faculty member in the Division of Biological Sciences since 1990, serves as co-director of the UC San Diego Food and Fuel for the 21st Century research program. Schroeder's research achievements include pioneering the characterization of ion channels in higher plants. He also investigates the basic molecular mechanisms by which plants respond to and mount resistance to abiotic stresses. A member of the Section of Cell and Developmental Biology, he was elected to the U.S. National Academy of Sciences in 2015.

The Leopoldina was appointed as the German National Academy of Sciences in 2008. According to its mission statement, it represents the German scientific community in international committees and speaks out on social and political questions, providing a nonpartisan, factual framework for discussion. Under the auspices of the Leopoldina, interdisciplinary groups of experts publish policy-guiding statements on issues of current interest. 

Schroeder holds the Novartis Chair in Plant Sciences and has served as president of the American Society of Plant Biologists, a professional society with more than 4,000 members devoted to the advancement of the plant sciences. Schroeder directed the Plant Systems Biology Graduate Training program at UC San Diego. He received the Charles Albert Shull Award from ASPB, a Presidential Young Investigator Award from the National Science Foundation, the Deutsche Forshungsgemeinshaft Heinz-Maier-Leibnitz Research Prize, and the Blasker Award in Environmental Science and Engineering. He is a Fellow of the American Association for the Advancement of Science.

Schroeder pursued his undergraduate studies in physics at the University of Göttingen and completed his MS and PhD in biophysics and physics at the Max Planck Institute for Biophysical Chemistry in Göttingen, Germany.

More information about the German National Academy of Sciences.
Media Contact: Mario Aguilera
858-822-5148; maguilera@ucsd.edu