Challenging Norms and Making a Difference in STEM Education
AAAS leader visits UC San Diego to help 'move the needle' for underrepresented students
July 10, 2017
By Mario C. Aguilera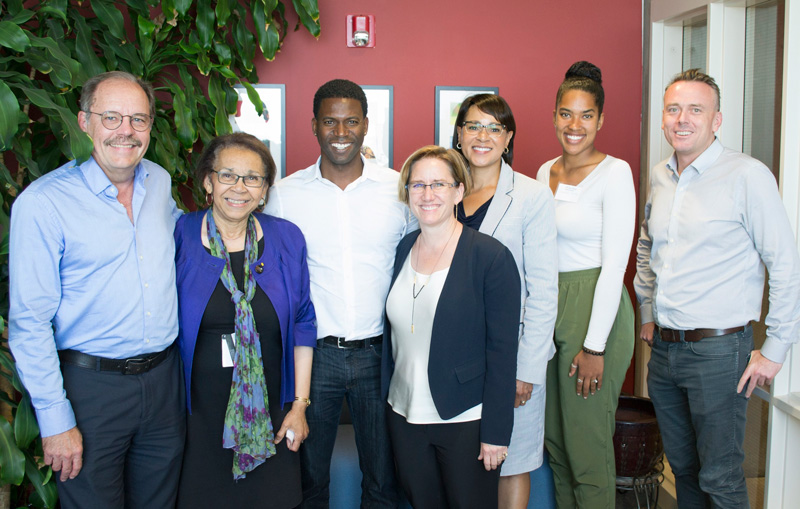 "Nothing will change until the incentives change… Start challenging everything."
Those were a few of the charges implored by Shirley Malcom, director of education and human resources programs for the American Association for the Advancement of Science (AAAS).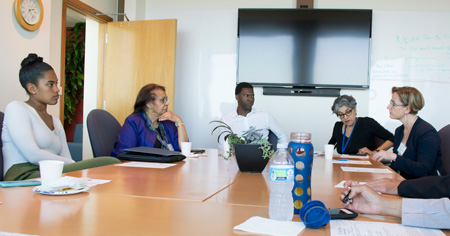 Malcom visited UC San Diego on June 26 for a stimulating roundtable discussion with UC San Diego diversity leaders on the responsibility of higher education institutions to improve the numbers of underrepresented students in Science, Technology, Engineering and Mathematics (STEM).
With a perspective grounded in a robust and accomplished career in science and education, Malcom urged university representatives to continue forging innovative paths to increasing STEM diversity. She said many underrepresented students drop out early in college because they can't find a sense of community in higher education. Thus she advised immersive educational experiences.
"Active learning matters," said Malcom, who attended college during the civil rights movement and now works to improve access to education and careers in STEM, as well as enhance science literacy. "Active learning makes a difference in these students' lives… You have many of the elements in place for a real transformation at UC San Diego."
Malcom is a former member of the National Science Board, the policymaking body of the National Science Foundation, and served on President Clinton's Committee of Advisors on Science and Technology. Internationally, she is a leader in efforts to improve access of girls and women to education and careers in science and engineering.
"Shirley Malcom is a thoughtful advocate for a diverse scientific workforce," said Bill McGinnis, dean of the Division of Biological Sciences. "She's very charismatic and makes an impression from someone who has worked tirelessly to move the needle in these efforts."
One such model for success was recently launched by Gentry Patrick, an associate professor of Neurobiology and director of mentorship and diversity for the Division of Biological Sciences. The Pathways to STEM (PATHS) project is being developed to address underrepresentation by offering incoming UC San Diego students from underserved communities an immersive gap year filled with training and mentorship opportunities. To be launched next year, PATHS is designed to engage families and communities to increase underrepresented students' retention and success in STEM degrees and fields.
"Dr. Malcom is an inspiration to us all, and we were fortunate to have her visit with us," said Patrick. "Her comments were spot on and should serve as a call to action by the leadership here at UC San Diego to be creative and innovative in our mission to increase the number and persistence of underserved and URMs (underrepresented minorities) in STEM."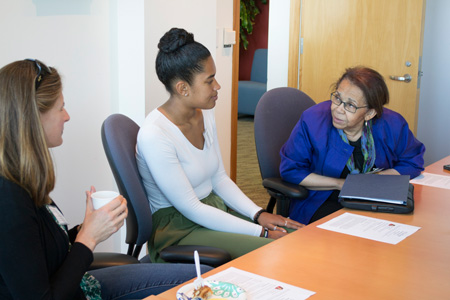 A native of Birmingham, Alabama, Malcom received her PhD in ecology from The Pennsylvania State University, masters in zoology from UCLA and bachelor's with distinction in zoology from the University of Washington. She holds 17 honorary degrees. In 2003, Dr. Malcom received the Public Welfare Medal of the National Academy of Sciences, the highest award given by the Academy.
Other projects and programs across UC San Diego were also discussed and debated during the meeting, which included, in addition to McGinnis and Patrick: David Artis, director of the university's Academic Enrichment Program; Steven Boggs, dean of the Division of Physical Sciences; Elsa Cleland, associate professor in the Section of Ecology, Behavior and Evolution (EBE); Olivia Graeve, professor in the Jacobs School of Engineering; Becky Petitt, vice chancellor for Equity, Diversity and Inclusion; Kit Pogliano, professor in the Section of Molecular Biology and dean of the Graduate Division; Chandler Puritty, EBE graduate student; JoAnn Trejo, professor of Pharmacology; and Katarina Trojnar, Biological Sciences senior director of development.