Discovery of Genetic Mutation in Florida Beach Mice Suggests Extinct Mammoth Had Light and Dark Fur
JULY 18, 2006
By Kim McDonald
Biologists at the University of California, San Diego have found that the main color differences among Florida's mice-which are darker on the mainland, but lighter on the barrier islands to blend in with the white sand dunes-are largely due to a simple genetic mutation.
Their discovery, detailed in the July 7 issue of the journal Science, is one of the first to demonstrate how a small change in a single nucleotide - the smallest subunit of a gene - can affect the survival and evolutionary fitness of an organism in the wild.
Because the mice differ not only in overall color, but in pigmentation pattern, the study also provides geneticists with a first step toward understanding how color patterns, such as zebra stripes and leopard spots, are generated in animals. And it raises the possibility that other vertebrates, such as mammoths, also evolved similar color variations using the same genetic mutation.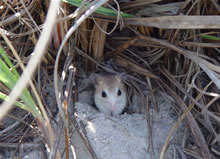 In a companion paper published in the same issue of Science, researchers in Germany report the discovery of this same mutation within DNA extracted from a 43,000-year-old bone of a wooly mammoth preserved in the permafrost of Siberia. Because the variations occur in the same nucleotide used by the Florida beach mice to alter their coat color, the University of Leipzig scientists say, populations of mammoths during the last Ice Age were likely composed of dark- and light-coated individuals.
"While there is growing evidence that phenotypic differences between organisms, like humans and chimps, are largely controlled by changes in gene regulation, these two studies are striking examples of how amino acid changes in structural proteins can also be important," says Hopi Hoekstra, an assistant professor of biology at UC San Diego who headed the team that discovered the genetic roots of the color differences in Florida's mice.
The coat pattern and color differences among populations of mice on the mainland and the barrier islands off the Florida Gulf and Atlantic coasts have been studied extensively since the 1920s, first by Francis Sumner of UCSD's Scripps Institution of Oceanography. Sumner used the mice as a textbook example of how small, geographically isolated populations could adapt to their new environments and diverge into distinct subspecies.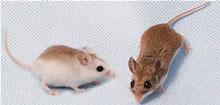 Known to scientists as Peromyscus polionotus, mice living on the mainland have dark coats, which help them blend in with the vegetation and avoid their main predators - owls, hawks and herons - that hunt prey by sight. But on five barrier islands off the Florida Gulf coast and three off Northern Florida's Atlantic coast, geographic isolation of the populations has resulted in eight distinct subspecies of beach mice, each with distinctive coat patterns that are lighter in color than their mainland counterpart.
"We know from geological evidence that the barrier islands are very recent, less than 6,000 years old," says Hoekstra. "So these color mutations may have evolved rapidly."
While scientists have been studying the genetics of complex coat patterns of these mice for nearly a century, few suspected that the simple mutation of a single nucleotide could have such a major impact on their coloration.
"We were surprised that this one gene could explain up to 36 percent of the variation we see in the mice," she says. "It's a large effect mutation. And what it says is that adaptation does not always occur gradually, but may happen in these relatively large jumps."
Hoekstra and her colleagues - Rachel Hirschmann of UCSD's Division of Biological Sciences and Richard Bundey and Paul Insel of UCSD's Department of Pharmacology - discovered the single nucleotide mutation in the melanocortin-1 receptor, a gene which regulates the pigmentation of hair color.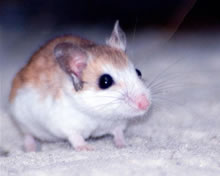 In laboratory mating of the different subspecies to produce genetic crosses, the UCSD scientists report in their paper that the variations of this gene account as much as 36 percent of the color variation in Gulf Coast mice. Surprisingly, however, this mutation was absent in the two Atlantic Coast subspecies, even though these Atlantic coast beach mice have similarly light colored coats. The results suggest that beach mice gain their light coloration through different genetic mechanisms.
"There is apparently more than one way genetically to become a light-colored beach mouse," says Hoekstra.
Other genes also contribute to the differences in the coat patterns among the mice. But, concedes Hoekstra, "We know very little genetically about how coat patterns are generated in mammals. This study is a first step toward understanding this complex genetic process."
Unfortunately for the scientists, the subjects of their study are disappearing rapidly. One of the eight original subspecies studied by Sumner has since become extinct and six of the seven remaining subspecies are considered endangered because their habitats are being destroyed by human development.
"These mice exist on beautiful white-sand beaches, inhabit the sand dunes and feed on sea oats," says Hoekstra. Their pristine habitat is being destroyed by human development coupled with hurricanes.
"Unfortunately these mice like the same habitat where people want to build beach homes and the two don't coexist well together," she adds. "The mice are now only found in protected areas, and hurricanes become a big threat because these beach mouse populations, which are so wonderfully adapted to their environment, are now small and fragmented."
Funding for the study was provided by the National Science Foundation.
Comment: Hopi Hoekstra, (858) 822-0160
Media Contacts: Kim McDonald UCSD, (858) 534-7572
Sherry Seethaler UCSD, (858) 534-4656