Biologist Bill Loomis on Life As It Is
July 24, 2008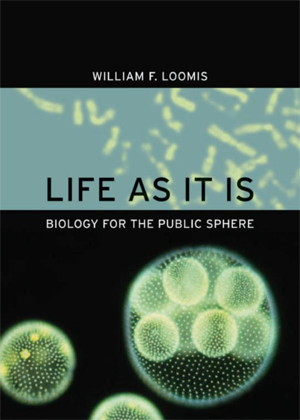 UC San Diego cell biologist Bill Loomis explores the interplay of social issues, ethics and the biological sciences in his new book, Life As It Is: Biology for the Public Sphere (University of California Press, 2008).
At a time when the gap is widening between scientific discovery and what the public and policy makers understand about science, Loomis asserts that scientific evidence needs to be considered when making socially important decisions about such controversial issues as abortion, euthanasia, use of embryonic stem cells, cloning, and overpopulation. He begins with clear, understandable explanations of the latest biological research into molecular and human evolution, the role of DNA sequences in determining traits, and the biological basis for consciousness. He then argues how these latest scientific discoveries need to be part of the process when making life-and-death decisions and when wrestling with questions about the limits of intervention. Book chapter topics include The Value of Life, Human Potential, Engineered Life, Genomic Information, Sociobiology, Consciousness, Selfishness and Cooperativity, The Origin of Life and Evolution of Man, Sustainable Life, and Wonderful Life.
Loomis is a distinguished professor of biology at UC San Diego, a former president of the Society for Developmental Biology and an elected Fellow of the American Association for the Advancement of Science, and a member of the Section of Cell & Developmental Biology. For more information on Loomis's research, visit the Loomis Lab website.
Life As It Is: Biology for the Public Sphere (University of California Press, 2008, 272 pp. hardcover $24.95, ISBN 978-0-520-25357-5; available in paperback in 2009)
Review excerpts
"A highly provocative book ... Loomis is a careful and clear guide to the historical social and political aspects of biology, making this overview both thorough and daring". -- Publisher's Weekly

"Wide-ranging, easily accessible and thought-provoking ... This profound and beautifully explained celebration of life deserves wide readership". -- New Scientist
Also see review in Nature (pdf)