Ipshita Zutshi Awarded HHMI International Student Fellowship
August 7, 2015
By Kim McDonald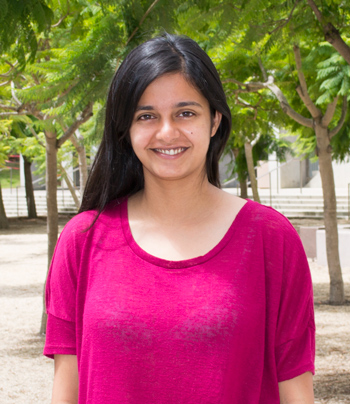 Ipshita Zutshi, a graduate student from India working in Stefan Leutgeb's laboratory, has been selected by the Howard Hughes Medical Institute as one of selected 45 doctoral students from 18 countries to receive fellowships that will help them complete their graduate degrees in the life sciences. The awardees will receive $43,000 during each year of the fellowship.
HHMI established the International Student Research Fellowships Program in 2011 to support international students during their third to fifth years of graduate school in the United States. Since then, the Institute has invested $20.8 million in the program, and is currently supporting a total of 231 students from 46 countries.
Fifty-seven PhD-granting institutions were eligible to nominate graduate students for this year's fellowships. Three hundred twenty-nine students submitted applications, which were reviewed by a panel of top scientists and graduate educators. Only institutions currently hosting one or more HHMI Investigators could nominate candidates.
International students in U.S. graduate schools often have difficulty getting funding to support their studies. They are not eligible for federal fellowships or training grant support, or other governmental opportunities that are generally reserved for students who are U.S. citizens.