Discovery Could Help Stem Infections of Parasitic Roundworms
AUGUST 10, 2009
By Kim McDonald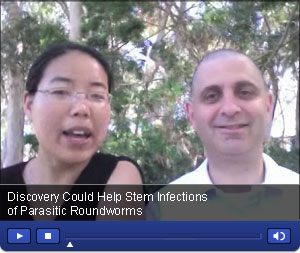 Working with researchers in China, biologists at UC San Diego have discovered how a Chinese drug effective in killing parasitic roundworms works.
Their discovery of the drug's biological mechanism provides important new information about how to combat parasitic roundworms, which infect more than a billion people in tropical regions and are one of the leading causes of debilitation in underdeveloped countries. The researchers detail their findings in the current issue of the open-access journal PLoS Neglected Tropical Diseases.
Parasitic intestinal roundworms, such as hookworms-estimated to affect as many as 740 million people worldwide-and whipworms, which infect an estimated 795 million people, are considered by public-health officials to have a combined debilitating impact on human populations that is equal to or great than malaria or tuberculosis. But few drugs have been developed to effectively combat their infection.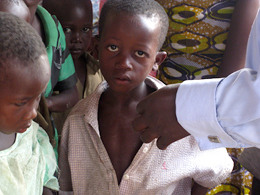 Photo by Jeanine Niyonzima-Aroian
"For practical reasons, only one drug, albendazole, is now widely used in administering single-dose treatments to large populations," said Raffi Aroian, a professor of biology at UCSD who headed the research effort. "But because of the enormous numbers of people that need to be treated and the necessity of repeated treatments due to high re-infection rates, the development of resistance to albendazole is a serious threat to large-scale de-worming efforts."
"We are studying this Chinese drug, tribendimidine, that clinically appears to be as good as albendazole," he added.
Developed by the Chinese Center for Disease Control and Prevention in Shanghai, tribendimidine has not yet been approved for human use in the United States. Recent clinical trials in China and Africa have found the drug to be effective in humans against some roundworm parasites, such as hookworms. But not much is known about the biological mechanisms by which the drug kills roundworms or the biochemical pathways through which roundworms can develop resistance to tribendimidine.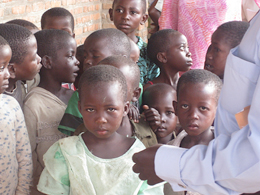 Photo by Jeanine Niyonzima-Aroian
"This information is important for preventing, detecting and managing the resistance that some organisms can evolve to drugs," said Aroian. "It's also important in order to safely administer the drug to large populations and for knowing how to combine tribendimidine with other drugs."
Yan Hu, a postdoctoral fellow from China working in Aroian's laboratory, contacted Shu-Hua Xiao, a professor at the Chinese CDC in Shanghai, and began a two-year series of studies with the laboratory roundworm C. elegans that allowed her to determine tribendimidine's mechanism of action.
She did this by first developing genetic mutants resistant to tribendimidine and later analyzing another set of mutants to two other drugs used to treat roundworms-levamisole and pyrantel. Hu then determined that all of the mutants had the same genetic abnormalities, meaning that the biochemical pathways used to develop drug resistance in the animals were similar in all three. Mutants that develop resistance to albendazole, meanwhile, have a totally different set of genetic abnormalities.
Because levamisole and pyrantel are substantially less effective as albendazole in killing roundworms, these drugs are not the first choice for mass administration of drugs. But the results from Hu and her collaborators suggest that tribendimidine could be effectively used in areas instead of albendazole where parasites are likely to or have already developed a resistance to albendazole. Tribendimidine could also be combined with albendazole, the researchers said, to increase the effectiveness of killing parasitic roundworms, since both drugs have different biological killing mechanisms.
"Tribendimidine is not just a little bit different from albendazole," said Aroian. "It's in an entirely different class of drugs. The fact that tribendimidine is different from albendazole, but has the same level of effectiveness, and is in the same class as pyrantel and levamisole should increase people's comfort level in using this new drug."
The researchers were supported in their study by grants from the National Institutes of Health.