Marie Adomako Receives HHMI Gilliam Fellowship
Program selects exceptional doctoral students with potential to advance diversity among scientists
August 15, 2017
By Mario Aguilera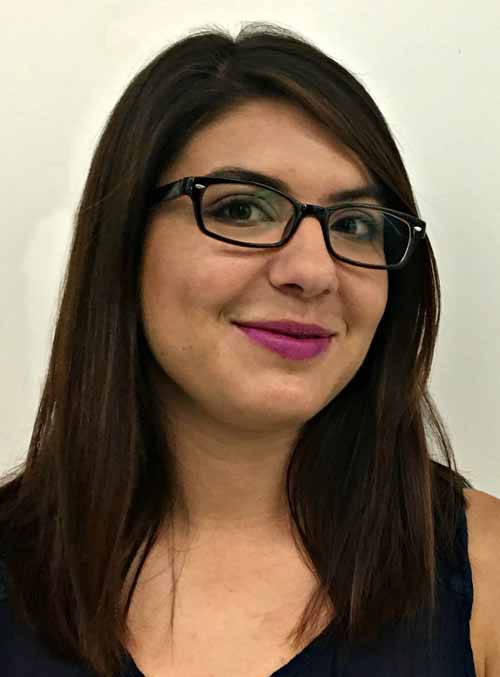 UC San Diego Division of Biological Sciences graduate student Marie Adomako has been awarded a 2017 Howard Hughes Medical Institute (HHMI) Gilliam Fellowship for Advanced Study.
The goal of the program, which supports exceptionally promising doctoral students motivated to pursue careers in academic science, is to prepare a diverse and highly trained scientific workforce that can help develop the next generation of scientists. Adomako is one of 39 students out of 135 applicants to win the award.
A second-year predoctoral student working in Professor Susan Golden's laboratory, Adomako studies communities of bacteria known as biofilms. She is focusing on biofilm formation in phototrophic organisms (which obtain energy from light) using advanced genetic tools and a comparative genomics approach. Studying phototrophic biofilms aids in understanding microbial ecology and has applications in wastewater purification, bioremediation, combating biofouling and improving harvesting efficiency of cyanobacterial crops. 
"The Gilliam Fellows are outstanding students who have the potential to be real leaders in science," says David Asai, senior director of science education at HHMI. Each fellow will receive an annual award totaling $46,000, which includes a stipend, a training allowance and an institutional allowance, for up to three years.
Gilliam Fellowships also are an award for the graduate students' thesis advisor, since effective mentoring is critical for building a diverse community of young scientists. As part of the fellowship, each student's advisor will participate in a year of mentoring development activities, including online training and an in-person workshop at HHMI headquarters in Chevy Chase, Maryland. 
The mentor's job is to figure out how to help their student develop into an even better scientist, Asai says. That can be especially challenging if students and mentors come from different racial or cultural backgrounds, he says. Gilliam Fellowship mentor training is led by a trio of researchers who travel around the country teaching faculty how to mentor diverse students in science: Angela Byars-Winston and Christine Pfund of the University of Wisconsin and Sherilynn Black of Duke University.
The Gilliam fellowships were established in 2004 in honor of the late James H. Gilliam Jr., a charter Trustee of HHMI who spent his life fostering excellence and diversity in education and science. Since then, HHMI has provided more than $21 million to fund the Gilliam program.
To be eligible for a fellowship, applicants must be enrolled in their second or third year of a PhD program in the life sciences, and not in an MD/PhD program. Applicants must be from racial, ethnic and other underrepresented groups in the sciences, including those from disadvantaged backgrounds, must aspire to careers in academic science and must demonstrate a commitment to the advancement of diversity and inclusion in the sciences.
Further details are available at: http://www.hhmi.org/news/hhmi-awards-39-gilliam-fellowships-support-diversity-science 
-- With HHMI announcement information