Local Students Experience Science at UC San Diego
August 21, 2014
Sherilyn Reus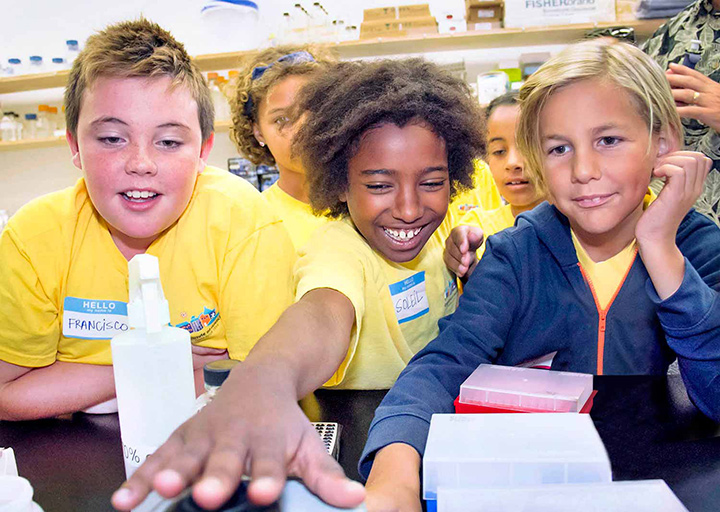 Photos by Erika Johnson/University Communications
A group of 70 excited and inquisitive youngsters had an opportunity to explore laboratory environments recently at the University of California, San Diego as part of the campus's outreach efforts to encourage K-12 students to pursue careers in STEM (science, technology, engineering and math) fields. The elementary and middle school students were from the Elementary Institute of Science (EIS), a San Diego-based science enrichment program that nurtures students' intellectual curiosity by providing hands-on experiences.
"How do you know what chemicals to mix together?" and "Do you do dissection here?" were just two of many questions EIS students had as they met with scientists and visited labs during the tour hosted by UC San Diego's Division of Biological Sciences.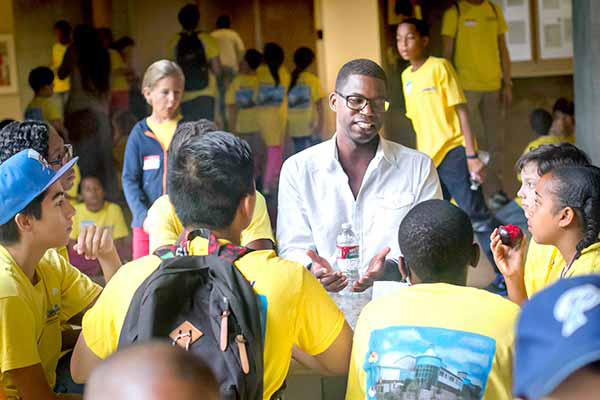 "EIS is bringing kids from diverse backgrounds all together to learn. It brings kids of different demographics into an environment that will challenge them," said Gentry Patrick, an associate professor of biology who organized the tour of biology research labs on campus. He told tour participants that UC San Diego is a hub for learning—students learn from professors, and from each other.
EIS education director, Charla Fields, added, "Every summer we try to visit a university—although it is not always easy. This is the first time I've been at a university hosted EIS event that we've had so many labs and professors. The response from UC San Diego was phenomenal!" Fields noted that for many of the students it was their first time visiting a college campus.
Nicole Francisco, an EIS instructor, agreed, noting, "A lot of these students want to go to college and want to be scientists, so this is great exposure."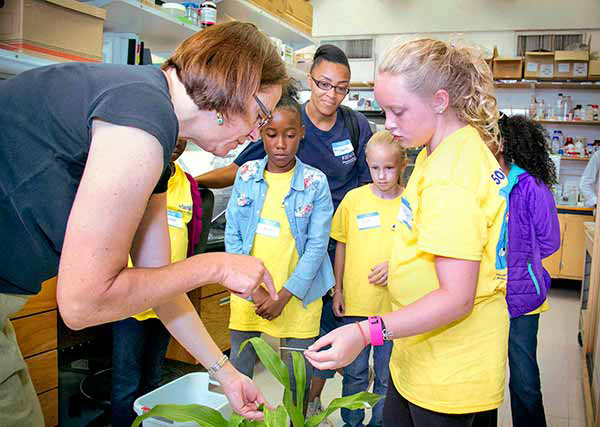 Laurie Smith was one of 11 biology professors who shared their passion for science with groups of students. The first visitors to her plant biology lab—all girls in elementary school—learned about Smith's profession, and were fascinated as she showed them various elements of her lab, including corn plants which were part of an ongoing study.
When asked if they believed they could be female scientists, the group enthusiastically shouted, "Yes!" One of the visitors, Alejandra, said the greatest part about the tour was being able to learn from an actual college professor. Another student, Sydney, added, "It gives me experience so that when I grow up and go to college, I'll know things that others won't, so I can help them."
An education in a STEM field is the qualifying factor for many of our nation's best-paying jobs. The U.S. Department of Education projects a significant increase in the percentage of these careers from 2010 to 2020, including a 62 percent increase in biomedical engineers, a 36 percent increase in medical scientists and 16 percent increase in mathematics. As the demand for a solid STEM background steadily increases, academic mentors are working to inspire young children to embark on this educational journey.
"Students should start young," said Patrick. "The earlier you can give them experience, the more time it can take hold to develop into something they can possibly do with their futures. Providing them with these experiences makes a long lasting impact. They can see that being a scientist isn't so far-fetched."
The students' fervor for knowledge radiated on the tour. The first-hand experiences these types of STEM outreach programs offer can help solidify scientific curiosity into lifelong career paths. The goal is to encourage these young individuals to study hard now and hopefully they can come back to the UC San Diego. A student couldn't resist exclaiming, "When I grow up, I really want to go here!"