Brenda Bloodgood and 3 Others at UC San Diego Win Funding from Obama's BRAIN Initiative
August 25, 2014
By Kim McDonald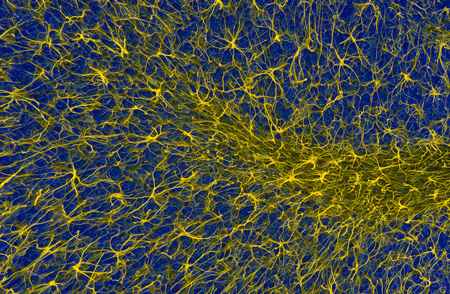 Thomas Deerinck, National Center for Microscopy and Imaging Research at UC San Diego
Brenda Bloodgood, an assistant professor in the Section of Neurobiology, and three other scientists at UC San Diego are among 36 recipients nationwide who have been awarded early concept grants for brain research from the National Science Foundation.
The awards were made to fund research projects that the federal science agency determined could produce "potentially transformative insights into understanding the brain." The funding comes from the agency's allocation for President Obama's BRAIN Initiative, a multi-agency research effort that seeks to accelerate the development of new neurotechnologies that promise to help researchers answer fundamental questions about how the brain works.
The four awards to UC San Diego faculty add to the growing portfolio of neuroscience research programs establishing the campus as one of the world's major centers for brain research. UC San Diego faculty, for example, played a major role in the creation of Obama's BRAIN initiative in April 2013 and also led a similar state initiative that, two months ago, was awarded $2 million in the budget signed into law by Gov. Jerry Brown. The state's research grant effort, known as Cal-BRAIN – short for California Blueprint for Research to Advance Innovations in Neuroscience – aims to "accelerate the development of brain mapping techniques, including the development of new technologies."
"These awards are yet another manifestation of the excellence of our neuroscience faculty and our long tradition in neuroscience research, which were key factors in building the number one ranked neuroscience graduate program in the nation and establishing our Kavli Institute for Brain and Mind," said UC San Diego Chancellor Pradeep K. Khosla.
More information about the awards at the UC San Diego News Center Release