Immo Scheffler receives UMDF Sage Fellowship for studying mitochondrial function
Sept 12, 2003
Media Contact: Kim McDonald, (858) 534-7572, kmcdonald@ucsd.edu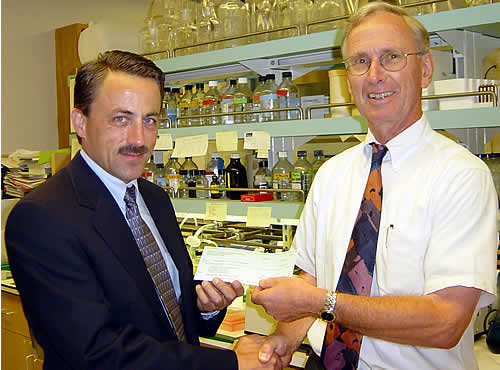 Mark Fleming (left) of UMDF presents Immo Scheffler with grant check.
The United Mitochondrial Disease Foundation (UMDF) has presented a two-year, $100,000 grant to Professor Immo E. Scheffler in the Division of Biological Sciences at the University of California, San Diego. He will supervise Project Scientist Nagendra Yadava, PhD, in studying the components of a biochemical process in mitochondria that helps to produce energy for cells. UMDF presented the first check September 12 at Dr. Scheffler's lab.
Dr. Scheffler's study is one of six proposals UMDF is funding from the 51 submitted. A review panel of researchers and clinicians identified the six proposals with the strongest science and greatest impact on the field of mitochondrial medicine and research.
About the study …
Professor Scheffler plans to study the workings of the first step (performed by Complex I) in the five-step process by which mitochondria produce energy for the cell. In bacteria, there are 14 proteins coded in the bacterial DNA for Complex I. However, in mammals the nuclear DNA has blueprints for 39 protein units involved in Complex I, and an additional 7 are encoded by mitochondrial DNA.
"Our challenge is to elucidate the role of over 30 additional subunits that have been added to the complex in mammalian mitochondria in the course of evolution," explains Dr. Scheffler.
He will learn what each of these proteins does by preventing their production through the use of "small interfering RNA." Blocking production of one protein at a time, Professor Scheffler will learn about its role in the assembly, stability, activity, and regulation of Complex I.
"The insights we gain," says Dr. Scheffler, "can be applied to the diagnosis and understanding of mitochondrial diseases, particularly the growing class of such diseases resulting from a partial Complex I deficiency." This project focuses on animal cells, but it can lead to similar experiments in whole animals, such as a mouse, to study the broader physiological and pathological aspects of mitochondrial diseases.
About mitochondrial disease …
Mitochondrial disease affects mostly children, although more and more adults are seen with "spontaneous" cases. Some children with the disease are so weak that they cannot even hold their parents' hands. Many die before they reach their teenage years.
Scientists estimate that 1 in 4,000 children born in the United States each year will develop a mitochondrial disease by 10 years of age. By way of comparison, approximately 8,000 new cases of childhood leukemia are diagnosed each year. Unfortunately, mitochondrial disease still goes unrecognized, for months or even years. Therefore, what passed for unexplained deaths in children in the past is now often determined to be mitochondrial disease at autopsy.
About the UMDF Sage Fellowship …
The Sage Foundation, based in Brighton, Michigan, funded the UMDF Sage Fellowship to encourage a post-doctoral student at a leading research institution to start a career in research on mitochondria.
About the United Mitochondrial Disease Foundation …
UMDF Board Chairman, Chuck Mohan, will never forget the words of his daughter, who died of a mitochondrial disease, "Daddy, don't lose me." No parent should lose a child or hear such a plea from a loved one.
Through the efforts and vision of parents like Mohan, the United Mitochondrial Disease Foundation (UMDF) was formed in 1995 to help educate the public and the medical community about these complex and often fatal diseases in order to help patients obtain an earlier diagnosis and better treatment.
UMDF provides support and information to thousands of patients, family members, donors, medical staff and the general public. It has funded significant biogenetic research specifically related to treatments and underlying causes of mitochondrial disease.
In 1997, the United Mitochondrial Disease Foundation (UMDF) recognized the lack of a research focus into mitochondrial disease and made its first grant award in the amount of $30,000. The grand total for grant awards for 2003 is $500,000. By increasing the amount of funding, the UMDF has drawn new researchers into the field of mitochondrial medicine.
Made up of 2,500 members who participate in 20 groups across the US and Canada, UMDF relies on volunteer fundraising events for more than half its budget. As more families join UMDF and create more and stronger groups, its fundraising will increase.