Brain Trust
October 9, 2014
By Kim McDonald and Inga Kiderra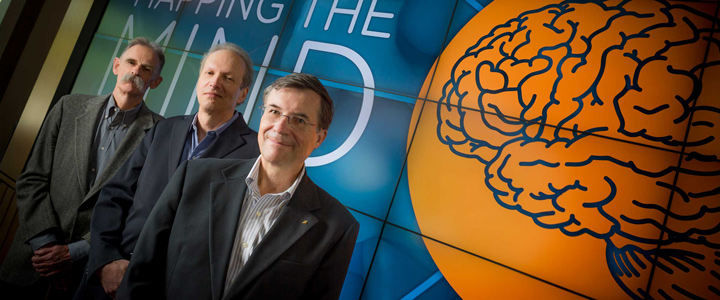 Erik Jepsen/UC San Diego Publications
President Obama's BRAIN Initiative, a federal research effort designed to help researchers answer fundamental questions about how the brain works, has in recent months awarded scientists at UC San Diego with more than $10 million in grants, cementing the campus's reputation as one of the world's top centers for neuroscience research.
Last week, the White House announced that four teams of UC San Diego scientists won research grants totaling nearly $10 million over the next three years from the National Institutes of Health to lay the groundwork for visualizing the circuits of the brain and how they work. That followed an August announcement by the National Science Foundation of early concept grants for brain research from the BRAIN Initiative to another four teams at UC San Diego totaling more than a $1 million.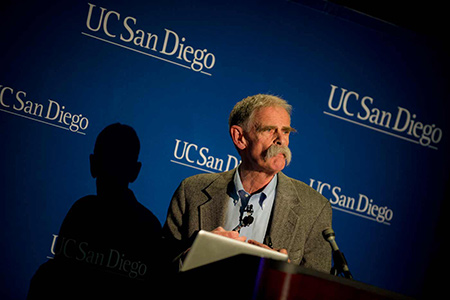 Erik Jepsen/UC San Diego Publications
"Our success rate in winning these NIH and NSF awards is a reflection of the strength of our neuroscience faculty and the contributions they will make to this important national research effort," said UC San Diego Chancellor Pradeep K. Khosla, who attended last week's White House ceremony and conference on the BRAIN Initiative in Washington, DC, where new federal and private sector commitments were unveiled in support of this effort.
Chancellor Kholsa was joined at that event by two other UC San Diego faculty members—Ralph Greenspan and Terry Sejnowski, who, with Nicholas Spitzer, a professor of biology and director of the Kavli Institute for Brain and Mind, had worked with the Obama Administration and federal science agencies to craft and promote the BRAIN Initiative.
"It was exciting to see all of the activity that is going on as part of this major initiative," said Greenspan, professor in residence of neurobiology and cognitive science and founding director of the university's Center for Brain Activity Mapping. "UC San Diego has been out in front of this effort at every stage -- proposing and promoting the original idea, forming the first academic center to carry it out, and organizing the first state-wide research effort. With these grant awards from NIH and NSF, we will continue to do so."
The BRAIN Initiative was launched April 2013 and is expected to last a decade. In May, 2013, the campus established the Center for Brain Activity Mapping, or "CBAM," and the state followed this June with the California-wide research initiative called Cal-BRAIN . Like the White House initiative, Cal-BRAIN – short for California Blueprint for Research to Advance Innovations in Neuroscience – aims to "accelerate the development of brain mapping techniques, including the development of new technologies." Three months ago, Cal-BRAIN was signed into law by Gov. Jerry Brown with an initial budget of $2 million. The research grants program is the first statewide complement to the federal effort.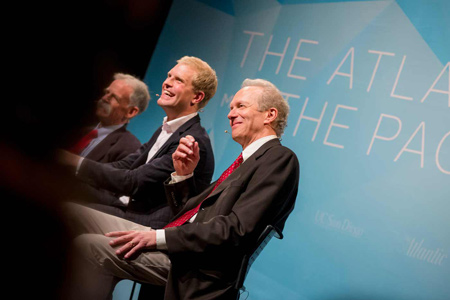 Erik Jepsen/UC San Diego Publications
CBAM, the nation's first academic center devoted to this effort, is bringing together neuroscientists and physical scientists, medical professionals and engineers in a productive partnership. It has so far awarded two rounds of seed grants – 11 awards in December, 2013 and 11 more in May, 2014. Those grants are designed to spur innovation among interdisciplinary teams of researchers at UC San Diego and on the Mesa and in San Diego more broadly, as well as with partner institutions outside the region.
"We are bringing together nanoscience and neuroscience to build a new discipline: neurotechnology," explained Spitzer. "What captured President Obama's attention in the original proposal for the BRAIN Initiative were jobs and the economy. The investment in the Human Genome Project was $4 billion, but the economic impact was something like $800 billion. New instruments were developed, companies started, people were hired and the field of biotechnology came into being. At UC San Diego, we are in a unique position to do the same for neurotechnology."
"This is an extraordinarily exciting and promising time for neurobiology," added Spitzer. "The research funded by these grants will provide valuable information about neuronal circuits and the ways in which their function is regulated. This understanding will have application in developing treatments for both psychiatric and neurological disorders. Understanding the complexities of the brain's wiring will also find applications outside of the life sciences – such as smart phones, driverless cars and robots."
Andrea Chiba, an associate professor of cognitive science at UC San Diego, heads a collaboration of cognitive scientists and engineers at the University of Queensland Australia and the Jacobs School of Engineering that aims to develop tools to understand neural activity in a social context. With the team's NSF BRAIN Initiative grant for "Socially Situated Neuroscience," which it received in August, the researchers will use rats as a model for humans, because the animals have well-developed social behaviors.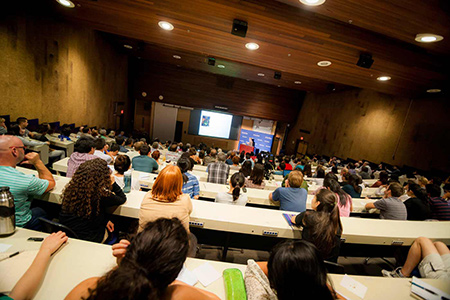 Erik Jepsen/UC San Diego Publications
"Most of what we know about neuroscience comes from the study of single individuals in a laboratory setting," Chiba said. "But we humans are social animals. We hope this project – by looking at what brains do when interacting with other brains – will begin to close that knowledge gap. What's exciting to me is that the BRAIN Initiative and Cal-BRAIN seek to develop new tools that will help those of us who study cognition address some big-picture questions about human behavior, because ultimately many solutions to societal issues, including brain diseases, reside in gaining a full understanding of how the biology of human brains and bodies relate to behavior. As the efforts develop, I foresee an even greater role for questions rooted in the social sciences guiding the application of the various innovations."
"The BRAIN initiative serves to refocus the neuroscience community on fundamental issues with nervous systems from a computational rather than a biomedical perspective," said David Kleinfeld, a professor of physics and neurobiology who heads two newly-formed teams of scientists at UC San Diego, one of which received a $2.8 million grant from the NIH BRAIN Initiative last week and the other of which received a $300,000 early concept grant in August from the NSF.
He explained that neurobiologists in the early 20th century attempted to characterize nervous systems as "combinations of unitary motor actions."
"Yet experimental reality was too primitive, some 50-plus years ago, to test these ideas in a meaningful way," he added. "It is literally now, right now, that tools—molecular, genetic, optical and electronic—to deconstruct circuits have become available. These tools allow us to measure and perturb neuronal signals the way an engineer might probe circuit. The BRAIN Initiative seeks to advance and enhance these new tools and to promote a concerted application of new tools to uncover principles of neuronal computing. This is certainly what we are going to do."
Andrew Huberman, an assistant professor of neurosciences, biology and ophthalmology at UC San Diego, is part of a team that last week won a $4.1 million BRAIN Initiative grant from the NIH to delineate all the retina's neural circuits and define their specific roles in visual perception and behavior. Said Huberman, whose team includes researchers from Princeton University, Caltech, University of Tubingen and University of Washington: "This is a remarkable time in the history of brain science when initiatives like this one are providing labs from different universities with the opportunity to align forces around unmet goals of understanding brain structure and function."