Kimberly Cooper Awarded Packard Foundation Fellowship
October 19, 2015
By Kim McDonald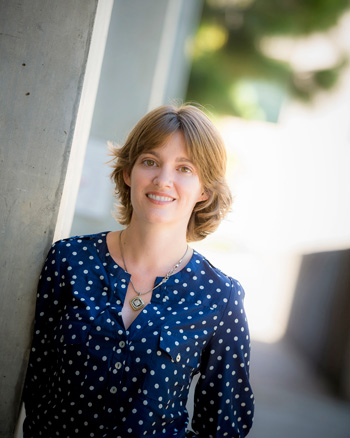 Erik Jepson, UC San Diego Publications
Kimberly Cooper, an assistant professor of biology in the Section of Cell and Developmental Biology, is one of 18 scientists nationwide who this year will receive a prestigious Packard Fellowship for Science and Engineering, given to promising early-career scientists from the David and Lucile Packard Foundation.
She will receive a grant of $875,000 over the next five years to pursue her research.
Cooper uses an unusual model system, the bipedal jerboa, to understand how evolution has shaped limb form and function. Scientists believe a deeper understanding of how limb structures can be modified may shed light on human birth defects and other disorders in which musculoskeletal development is disrupted.
Packard Fellows must be faculty members who are eligible to serve as principal investigators on research in the natural and physical sciences or engineering, and must be within the first three years of their faculty careers. Disciplines that are considered include physics, chemistry, mathematics, biology, astronomy, computer science, earth science, ocean science and all branches of engineering.
This is the third major award Cooper has received this year. In June, she was named a Pew Scholar by the Pew Charitable Trusts and, in April, she was named a Searle Scholar, an award that will provide her with $300,000 in flexible funding during the next three years for her research.
Cooper received her doctorate in molecular and cellular biology from the University of Washington and was a postdoctoral fellow at Harvard University before coming to UC San Diego in 2013.
The Packard Foundation established its fellowships program in 1988 to provide early-career scientists with flexible funding and the freedom to take risks and explore new frontiers in their fields. Each year, the Foundation invites 50 universities to nominate two faculty members for consideration.
The Packard Fellowships Advisory Panel, a group of 12 internationally-recognized scientists and engineers, evaluates the nominations and recommends Fellows for approval by the Packard Foundation Board of Trustees. The fellowships program was inspired by David Packard's commitment to strengthen university-based science and engineering programs in the United States, recognizing that the success of the Hewlett-Packard Company, which he cofounded, was derived in large measure from research and development in university laboratories.
More on this year's Packard Fellows at the David & Lucile Packard Foundation.