2009 Graduate Retreat- A great success
November 5, 2009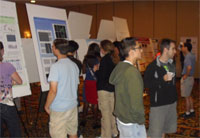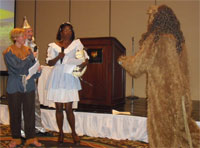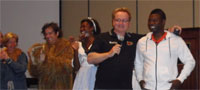 Every Fall, the division's faculty and staff organize a retreat giving faculty, students and postdocs a chance to share their research, socialize, welcome the incoming graduate class, and kick off the new academic year. This year's retreat took place Sept 20-22 at the Lake Arrowhead Resort and Spa.
Activities included three faculty sessions organized by overlapping scientific interests, a brand new session of postdoctoral fellows from each section and the Salk Institute, a graduate student session and a poster session. This year's keynote speaker, Fred (Rusty) Gage, brought us the latest findings on how our brain renews itself with new neurons even in adulthood.
BD Biosciences provided generous support for an awards ceremony that recognized the outstanding achievements of many of the graduate scholars (See full list of awardees below). The retreat committee (James Nieh, Emily Troemel, Lei Wang, Dong-Er Zhang and Yimin Zou) received strong support from the Dean's Office (Dean Kay and Associate Dean Wienhausen) and excellent administrative support as well (Cathy Pugh, Dana Brehm, Andy Lukosus and Helen Mout). There was also strong turnout from division and Salk faculty, and the section chair of Cell and Developmental Biology (CDB), Marty Yanofsky, took home the trophy for the best faculty attendance award. CDB had an impressive 55% attendance this year!
The retreat was capped off with a night of entertainment where faculty vied for the Biology Idol title and the students performed the traditional end of first years' skit. In the hilarious and lively Biology Idol competition, faculty members presented skits and musical acts, culminating in Gentry Patrick's victory due to his tongue-in-cheek rap rendition of "Sam, I Am". According to the Master of Ceremonies, Steve Kay, the sound meter that was used to determine the winner went off scale when the crowd voted by cheering for Gentry Patrick of the Neurobiology Section.
Related Links
2009 Graduate Retreat Program (pdf)