Biologists Use Algae-Produced Protein in Global Health Initiative
November 22, 2011
By Kim McDonald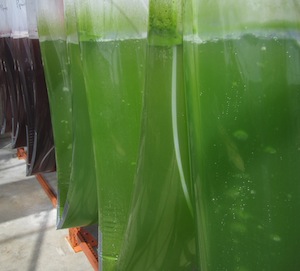 A research team in the Division of Biological Sciences headed by Stephen Mayfield will produce a mammary gland protein called MAA from algae to determine if has the potential to significantly reduce infectious diarrheal diseases, a major cause of infant mortality in the developing world.
The UC San Diego biologists will supply their algae-produced MAA to researchers at the University of Nebraska Medical Center as part of a newly funded initiative from the Bill & Melinda Gates Foundation to enable researchers worldwide to test unorthodox ideas that address persistent health and development challenges.
Mayfield, a professor of biology and director of the San Diego Center for Algae Biotechnology, is also one of the founders of Sapphire Energy, a San Diego company known for its development of a crude oil replacement produced from algae.
Mayfield's research team engineered edible algae to produce high levels of bovine colostrum MAA using Sapphire Energy's algae biotechnology platform. The MAA will be used by researchers at Nebraska headed by Thomas McDonald, a professor of pathology and microbiology there. His team of scientists has demonstrated that the protein increases the production of a natural protective barrier in the intestine against organisms such as Salmonella that can cause diarrhea.
For more on the research project and the grant received by the research team go to: https://app1.unmc.edu/publicaffairs/todaysite/sitefiles/today_full.cfm?match=8735