Don Helinski Honored with Revelle Medal
Biologist receives Chancellor's highest honor for a half-century of contributions
November 28, 2017
By Mario C. Aguilera and Jade Griffin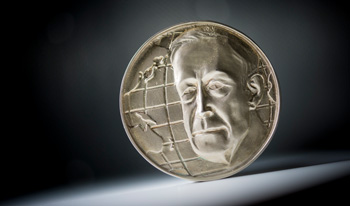 Don Helinski, professor emeritus in the Division of Biological Sciences' Section of Molecular Biology, has been awarded a 2017 Revelle Medal, the highest honor given by the Chancellor to a current or former UC San Diego faculty member. Helinski was honored with the medal on Nov. 17, 2017 during the university's Founders Day celebration.
For more than 50 years, (Helinski) has been both a pioneer and a champion for UC San Diego as it grew from a bold idea to the powerhouse it is today," notes Helinski's Revelle Medal nomination.
The Revelle Medal recognizes sustained, distinguished and extraordinary service to the campus. The medal also honors a record of accomplishment that advances UC San Diego in fulfillment of the campus mission of exceptional teaching, research, service and patient care. The medal was created in honor of Roger Revelle, who helped establish UC San Diego during his tenure from 1950-1964 as director of Scripps Institution of Oceanography.
Helinski has spent more than a half century on campus since joining UC San Diego in 1965. He dedicated himself to serving as chair of the Department of Biology and associate dean of the Division of Natural Sciences (which later split to create the Division of Biological Sciences and the Division of Physical Sciences). He has remained involved with the campus that he helped shape, providing continued support and mentoring to graduate students, as well as to undergraduate students through the UC San Diego Emeriti Association.
Helinski is widely recognized as one of the true pioneers of recombinant DNA technology. He made many fundamental discoveries in the biology of bacterial plasmids and in the early applications of cloning technology that provided the foundation for early successes in genetic engineering and much of the biotech industry today. He has also served as an advocate for setting guidelines and policy for the application of scientific advances for the betterment of humanity.
In recognition of his scientific achievements, Helinski received the Guggenheim Fellowship and has been elected as a fellow of the American Association for the Advancement of Science, the American Academy of Arts and Sciences and the National Academy of Sciences.
The Revelle Medal was initially established in 1981 by Chancellor Richard C. Atkinson to honor distinguished and sustained service to the campus by community members and friends. In 2013, Chancellor Pradeep K. Khosla reinstated the Revelle Medal to honor current or former UC San Diego faculty members whose achievements are illustrative of UC San Diego founder Roger Revelle's vision to attract distinctive and visionary faculty leaders.
The other 2017 Revelle Medal recipients are emeriti faculty members Paul Drake and Marilyn Farquhar. Past recipients of the award include: Walter Munk (2013); Shu Chien and Peter Gourevitch (2014); Cecil W. Lytle, Hugh "Bud" Mehan and Susan Shirk (2015); and Y.C. "Bert" Fung, Veerabhadran Ramanathan, Roger Reynolds and Palmer Taylor (2016).