UC San Diego Selected for Nationwide Science Education Program
December 13, 2007
By Kim McDonald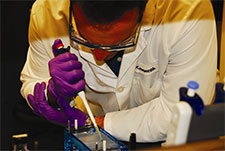 Credit: UCSD
The University of California, San Diego has been selected by the Howard Hughes Medical Institute as one of 12 inaugural institutions to participate in a new educational initiative, the Science Education Alliance, a national network of scientists and educators working collaboratively to develop and disseminate new materials and methods for science education.
As part of this innovative network, UC San Diego's Division of Biological Sciences will participate in the first nationwide genomics course, which will allow freshman at UCSD and 11 other institutions to engage in actual research.
"This is an authentic research experience and the data generated by the students will contribute to our broader understanding of genomics-the study of genes and their function," said Gabriele Wienhausen, associate dean for education in UCSD's Division of Biological Sciences. "The students will isolate bacterial viruses from local soil, prepare virus DNA for sequencing and annotate and compare the sequenced genome. The students and faculty at the participating campuses will communicate with one another during the 2008-2009 academic year and, at the completion of the course, travel to HHMI's Janelia Farm Campus in Northern Virginia to present their data."
The UCSD course will be jointly taught by Kit Pogliano, a professor of biological sciences, and Joe Pogliano, an assistant professor of biological sciences. It addresses a key limitation that many large research institutions have in educating students who hope to become scientists.
"All of us agree that undergraduates can and should participate early on in authentic research," said Wienhausen. "The scientific method and a scientific way of thinking needs to be taught through hands-on experiences. Furthermore, being involved in solving a real research problem should spark scientific curiosity in students. The typical approach to undergraduate research, which is one professor working with one or two students during independent study or a summer session during the junior or senior year of a student, does not work at big research universities. This nationwide HHMI initiative shifts the research experience to an integrated part of the students' core curriculum-reaching much larger numbers of students."
UCSD currently has 4,750 biology majors and Wienhausen believes this new program will be a significant recruitment tool, increasing the attractiveness of UCSD to high school seniors and increasing the number of students who eventually become working scientists. Numerous studies have shown that students rank undergraduate research experience as the most important factor when deciding whether to pursue graduate studies or a career in research.
"We are trying to catch students early-before they have a chance to become bored or overwhelmed by the typical large introductory science course," said Tuajuanda C Jordan, HHMI senior program officer and director of the Science Education Alliance.
"Our goals for the national genomics course are to improve science education at the national level and to increase the number of college students who continue to be science majors, and possibly go on to careers in science," said Peter J. Bruns, vice president for grants and science education at HHMI, which is committing $4 million to support the first four years of the Science Education Alliance. The support will provide resources to develop the course, reagents and laboratory components, computing support and software and an internet-based networking infrastructure for all participants. Jordan hopes that by 2011 more than 700 students will be taking the course at 36 institutions.
"Being able to participate in this innovative course will jump start us on a path we were keen on pursuing," said UCSD's Wienhausen. "It will create a proof-of-concept example that will demonstrate how we could achieve our goal to increase undergraduate participation in research through curricular innovation. It will also support our goal to teach students that communication and collaboration are key elements of doing sciences, hence, that honing one's oral and written communication skills and one's ability to work effectively in a team are essential."
Related Link:
Howard Hughes Medical Institute
Media Contact: Kim McDonald, 858-534-7572
Comment: Gabriele Wienhausen, 858-534-3105