Hannah Grunwald and Stuart Brody Honored at 2019 Founding Faculty Awards
December 19, 2019
By Mario Aguilera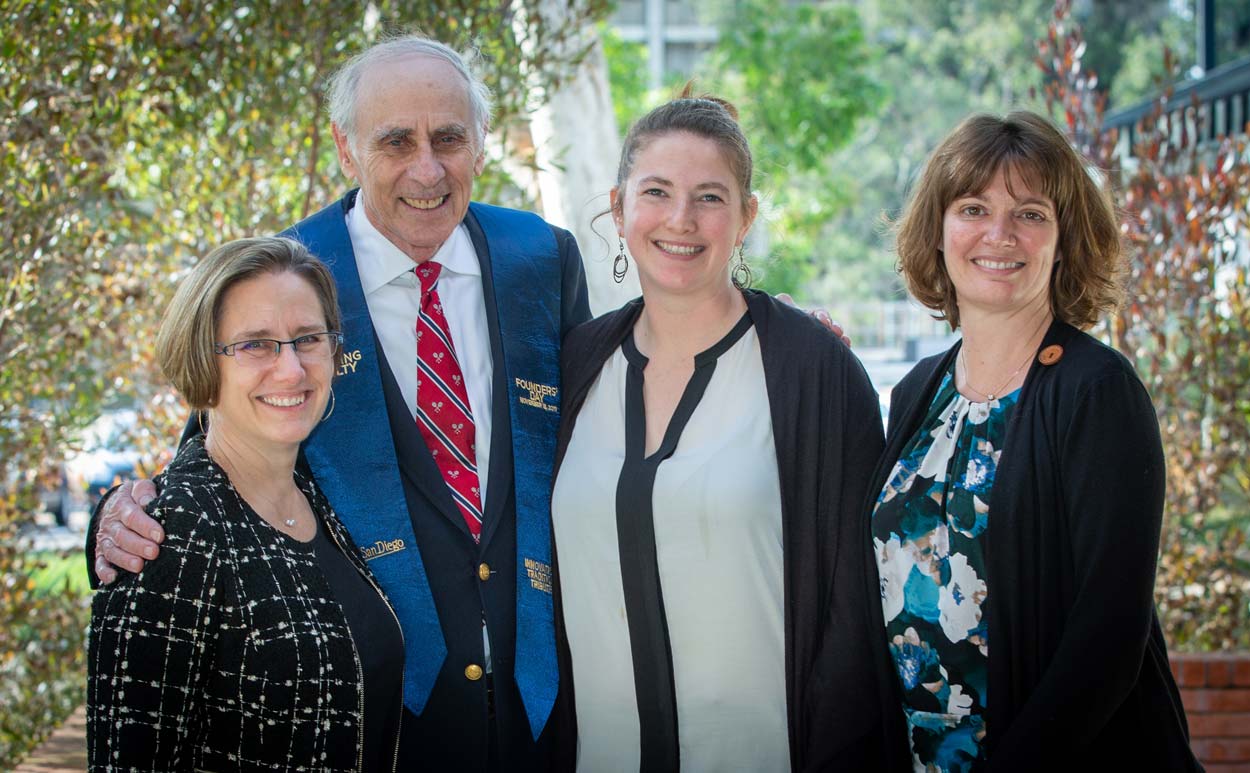 Lara Sievert
Recognizing her fundamental role in developing the first CRISPR/Cas9-based approach to controlling genetic inheritance in a mammal, Biological Sciences graduate student Hannah Grunwald was awarded the 2019 Biology Founding Faculty Award for Graduate Excellence.
Grunwald, her advisor Assistant Professor Kimberly Cooper and their colleagues published "Super-Mendelian inheritance mediated by CRISPR-Cas9 in the female mouse germline" in the journal Nature in January 2019 (read the news release here; watch Grunwald and Cooper discuss the paper in this video). The researchers demonstrated that "active genetics" technology, which biases genetic inheritance of preferred traits and was established in insects, could be used in mice. The achievement marked a significant new genetic tool for laboratory researchers studying human disease in rodents.
While the new technology was developed for laboratory research, future gene drives could one day build upon this approach in the wild for efforts to restore the balance of natural biodiversity in ecosystems overrun by invasive species, including rodents.
The Founding Faculty Award, first given in 2015 to Valentino Gantz (a co-author on Grunwald's paper), is annually bestowed through an endowment established by the first members to join in the Division of Biological Sciences, which was established in 1960. The honorees are chosen by a committee of emeritus faculty representatives of each of the Division's four academic sections.
Grunwald was recognized during a Founding Faculty Award ceremony on Dec. 5, 2019.
Also honored at the event was Professor Emeritus and founding faculty member Stuart Brody, who awarded the first Outstanding Faculty Emeritus honor by Biological Sciences Dean Kit Pogliano. Brody established the Founding Faculty prize along with his founding faculty colleagues.
"The new Outstanding Faculty Emeritus award is a way to recognize the contributions that emeriti faculty have made to this Division over the years," said Pogliano. "Stu embodies the energy and passion that helped establish the Founding Faculty prize. He's always been passionate about our educational mission and he remains active in so many ways."
The Founding Faculty award's previous winners include Homa Rahnamoun and Ipshita Zutshi (2018), Bingfei Yu (2017), Albert Lim (2016), Ben Rubin (2016) and Valentino Gantz (2015). Photos of Founding Faculty honorees are featured in UC San Diego's Bonner Hall lobby.