Candice Sy Wins First Gabriele Wienhausen Biological Sciences Scholarship
December 21, 2016
By Rachel Taylor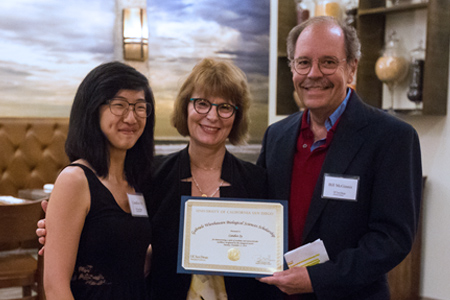 The Division of Biological Sciences celebrated Candice Sy as the inaugural winner of the Gabriele Wienhausen Biological Sciences Scholarship at a special event on Nov. 15, 2016. Named in honor of Gabriele Wienhausen, Ph.D., who served as Associate Dean of the Division for nearly eight years, the endowed award recognizes students who share her passion and dedication to the Division and UC San Diego.
In her activities on and off campus, Sy has demonstrated the spirit of active involvement in community leadership and academic excellence recognized by this award. In her fourth year as a molecular biology major and computer science minor, she worked as a lab assistant for the Salk Institute and a computer science intern at the Hillcrest Medical Center. She was also active in her department's extracurricular activities, as the professional development co-chair for the Biological Sciences Student Association and as a member of the freshmen programs committee. In these roles she acted as a mentor and advisor, helping to create a social network of peers for the newest students at UC San Diego.
Candice said the award helped relieve some of the financial burdens of her education. "I put the funds from the Wienhausen Award towards my tuition and living expenses," she said. "I would have had to graduate this quarter if I hadn't won this award. With the extra funds I could stay for the winter and spring quarters and take extra classes exploring the bio-informatics field, which combines my major and minor studies." Candice said she hopes she can live up to her scholarship's namesake and use her degree to give back to her community through education.
At the event, Dean Bill McGinnis spoke on behalf of the Division about the award and presented Wienhausen with a gift in honor of the occasion. Dean McGinnis praised Wienhausen for her tireless work supporting and inspiring students, especially the undergraduates in the Division. Wienhausen also delivered remarks, saying she was overwhelmed and humbled by the generosity of the 61 donors who helped create the endowment.
"Your gesture affirms that we share a belief in the unshakable value of academics and the importance of access to education," said Wienhausen. "The value of a scholarship is that it provides security as well as validation of our students' excellence."
Wienhausen said it was this type of support that helped her early on in her own career. "With this award we are celebrating the power of community, the power of believing that together we can achieve good and essential things – such as supporting, helping, and encouraging the next generation," said Wienhausen.