Black Student Union Honors Campus EDI Champion
With PhD in hand, Chandler Puritty reflects on her UC San Diego experiences and new models of success for underrepresented students
July 29, 2019
By Mario Aguilera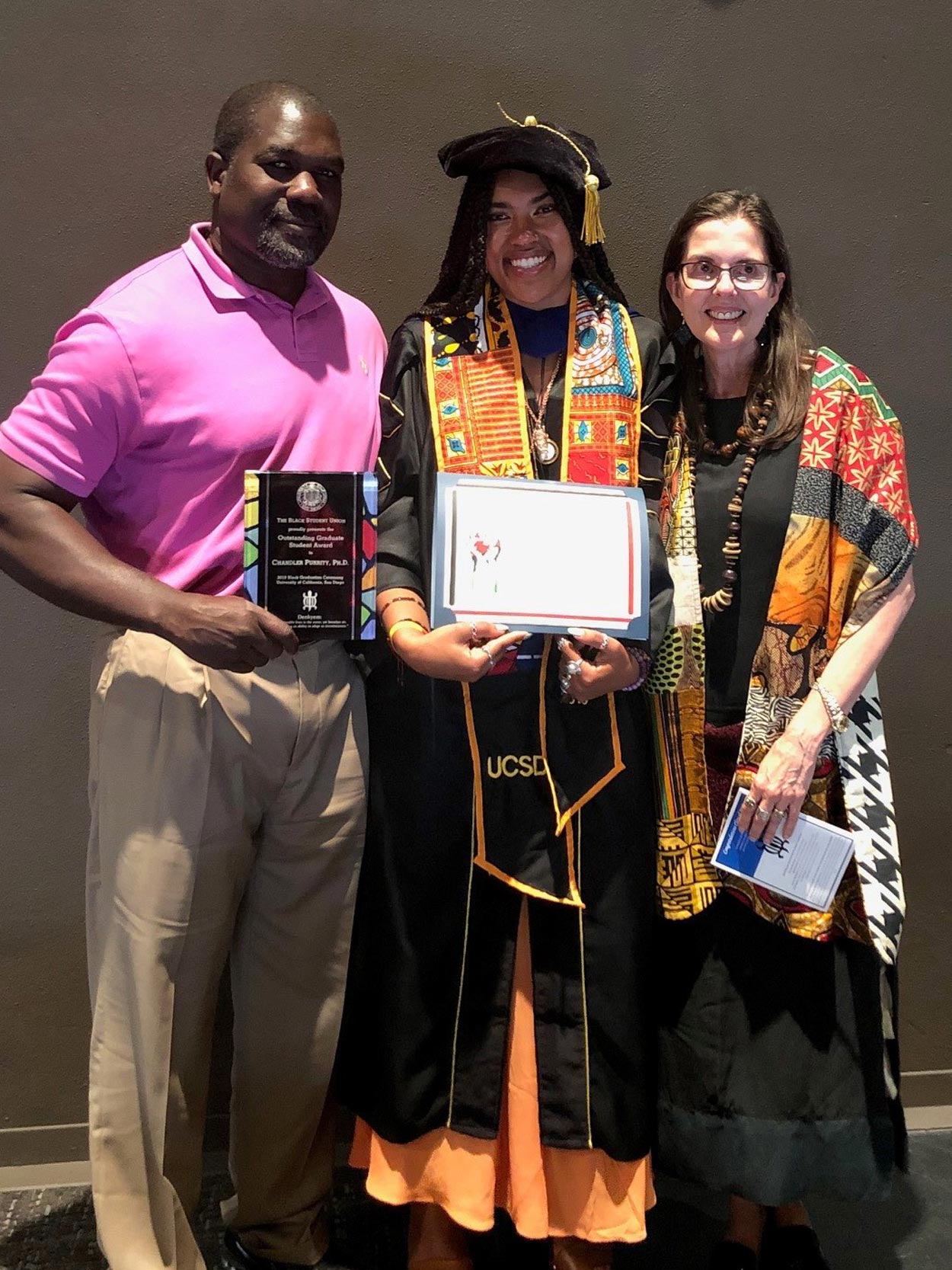 Inward and outward. Looking back upon the keys to her success, Chandler Puritty looks inward. Now, the newly minted Biological Sciences PhD looks outward in the hopes that future students, and in particular those who come from underrepresented sectors of society, can similarly find success and thrive in academia.
In June, Puritty defended her PhD thesis covering her research on ecosystem interactions between native and invasive plant species in Southern California and influences from drought.
She is thrilled to have achieved a doctoral degree from one of the leading biology programs in the country. Yet she is just as enthusiastic to describe the lessons learned along the way as a person of color. Her journey beyond academic success is a contemplative, reflective path that empowered her to meaningfully contribute to many critical equity, diversity and inclusion (EDI) initiatives that have been launched in the Division of Biological Sciences and across the UC San Diego campus.
"Chandler has made an impact on the UC San Diego campus since the day she arrived. She has been a vocal and visible advocate for underserved and underrepresented minorities in STEM," said Gentry Patrick, a neurobiology professor and the director of mentorship and diversity for the Division of Biological Sciences. "She has helped build a black graduate student association to help other African-American students find their way on this campus."
Because of such efforts, and many more, Puritty was awarded the 2019 Black Student Union's Outstanding Graduate Student Award.
Moving into the next chapter in her life, Puritty has applied for positions, including EDI jobs, at several institutions. She envisions herself working at the intersection of science and the inclusion and empowerment of underrepresented students. Her hope is to gain skills necessary to start her own non-profit organization centered on mental health and inclusion in the sciences. Her experiences at UC San Diego form the foundation for such a vision, which include her development of mental health and wellness skills, her ability to conquer feelings of imposter syndrome and the ways she was able to build community bridges on campus.
"After spending a lot of time here I don't necessarily think people are super well-rounded, especially in the sciences," said Puritty. "I think the whole science attitude of working 50 hours a week or you're not trying is a lie. I finished in four years and I did lots of other stuff."
Some of her keys to success included peer support groups, including one that she took the initiative to organize for graduate students of color.
"I also used a lot of self-care and self-love practices," said Puritty. "That included everything from trying to get regular sleep, staying hydrated, eating a plant-based diet and extending to how I talk and think about myself and others." She also advocates for normalizing therapy by taking away the stigma associated with reaching out for help when it's needed.
Having developed such a self-care toolkit, Puritty has made a point to impart these strategies onto the next generation of underrepresented students, including many she mentored during her graduate years. These include students in UC San Diego's Summer Training Academy for Research Success (STARS) program and PATHways to STEM (PATHS) through Enhanced Access and Mentorship program, a groundbreaking initiative that Puritty helped develop that focuses on incoming UC San Diego students who come from underresourced areas in San Diego.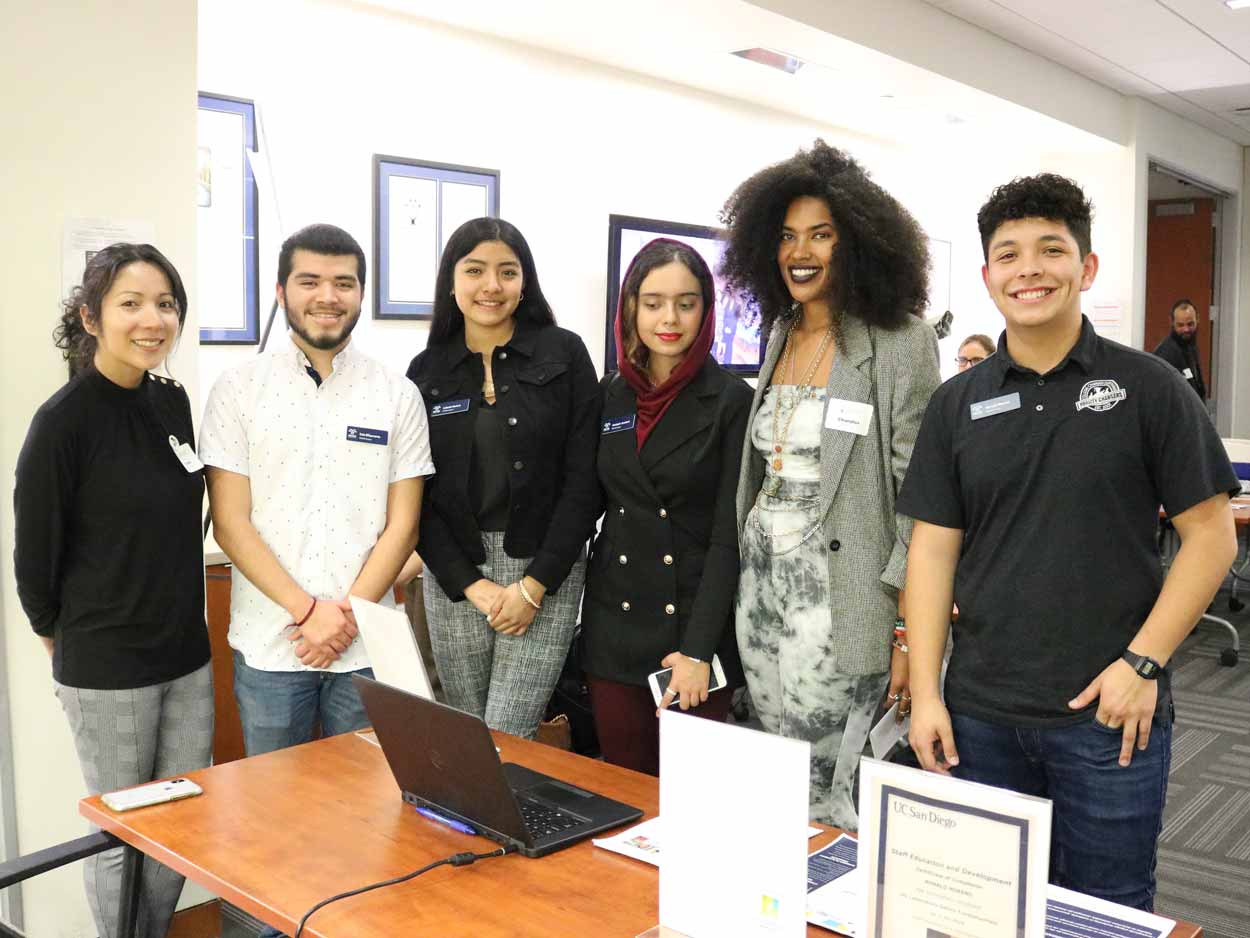 "It was my intention from the beginning that (PATHS) be holistic," said Puritty. "When you bring in these first-generation students, mostly from immigrant families, right to UC San Diego—of course they need to be prepared for math and science—but the things that they are going to struggle with most are things like the quality of the cafeteria food if they're used to home-cooked meals, being around students they've never been around and going from feeling like they are the top student in the class to feeling like they are way behind.
"I made a very deliberate goal of making sure (the PATHS program coordinators) were checking up on students, at least every other week, regarding their mental health and how they are doing spiritually. We need to know about their academic work-study habits, obviously, but we also need to know about their physical health."
Among her many other contributions and distinctions, Puritty served as the graduate student representative for the Division of Biological Sciences' Diversity Committee. She was selected to contribute to a campus-wide advisory board led by Vice Chancellor for Equity, Diversity and Inclusion Becky Petitt. In 2018 she was honored at the campus' annual Equal Opportunity/Affirmative Action and Diversity Award ceremony, where Executive Vice Chancellor Elizabeth Simmons recognized Puritty for her many efforts promoting EDI programs and initiatives on campus and in the greater community.
In 2019 Puritty was honored nationally when she was selected to join the Bouchet Graduate Honor Society, a prestigious organization saluting scholars who serve as examples in character and service to those underrepresented in higher education.
In 2017 she co-authored a broadly discussed article in the top-tier journal Science titled " Without inclusion, diversity initiatives may not be enough," a piece that argues that institutions that merely tally numbers of underrepresented students are not doing enough. Rather, cultures must change for true diversification success.
"We must all continue to demand institutional support, resources and programs for recruiting and retaining URM (underrepresented minority) students into degree programs—but also mandate that these programs be based on deeper institutional values and a commitment to cultural change," Puritty wrote in the article. "We must stop ignoring the way systemic bias infiltrates the lives and experiences of URM students and telling ourselves that these issues are unrelated to science. In the end, this is not altruistic. Committing to inclusion makes science, and scientists, better prepared to meet the ever-growing challenges facing society."
Elsa Cleland, a professor in the Section of Ecology, Behavior and Evolution, and Puritty's faculty advisor, said the article provided stimulation for new discussions of inclusivity.
"This piece was important because it sparked a much-needed conversation about how to create an inclusive academic culture, especially in the sciences," said Cleland. "Here at UC San Diego I think we learned just as much from Chandler as she learned from us, and we are a better institution from having her as our student."
In part, because of the collective range of efforts on campus and their payoff during her time at the university, Puritty looks to the future with hope.
"I think that based on the work that's been started, UC San Diego—especially Biological Sciences—if it continues in the right direction, is poised to become one of the most progressive, inclusive programs in the country," said Puritty. "This is because people are listening and having good conversations."