Four Biology Professors Win NIH Grants from Obama's BRAIN Initiative
September 30, 2014
By Kim McDonald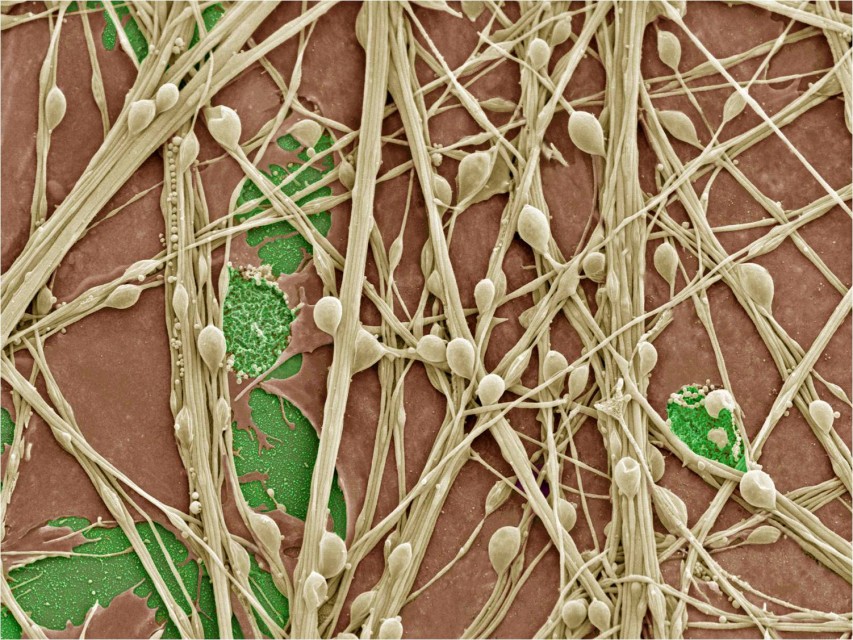 Thomas Deerinck, National Center for Microscopy and Imaging Research at UC San Diego.
Biology Professors Andrew Huberman, David Kleinfeld, Massimo Scanziani and Yishi Jin are leading four teams of scientists at UC San Diego which were recently awarded research grants from the National Institutes of Health that will help lay the groundwork for visualizing the circuits of the brain and how they work.

The four biologists join four other research teams at the university that in August were awarded early concept grants for brain research from the National Science Foundation.

The eight awards were made to fund research projects that the two federal science agencies expect will make transformative insights into understanding how the brain works. The funding comes from each agency's allocation for President Obama's BRAIN Initiative, a multi-agency research effort that seeks to accelerate the development of new neurotechnologies that promise to help researchers answer fundamental questions about how the brain works.

"Our success rate in winning these NIH and NSF awards is a reflection of the strength of our neuroscience faculty and the contributions they will make to this important national research effort," said UC San Diego Chancellor Pradeep K. Khosla, who attended a White House ceremony and conference on the BRAIN Initiative in Washington, DC on Sept. 30, where new federal and private sector commitments were unveiled in support of this effort.

The eight BRAIN Initiative awards to UC San Diego add to the growing portfolio of neuroscience research programs establishing the campus as one of the world's major centers for brain research. UC San Diego faculty, for example, played a major role in the creation of Obama's BRAIN initiative in April 2013 and also led a similar state initiative that, three months ago, was awarded $2 million in the budget signed into law by Gov. Jerry Brown. The state's research grant effort, known as Cal-BRAIN – short for California Blueprint for Research to Advance Innovations in Neuroscience – aims to "accelerate the development of brain mapping techniques, including the development of new technologies."


For more on the NIH awards,visit Four UC San Diego Teams Win NIH Grants from Obama's BRAIN Initiative (UCSD News Center).