A Door-Opening Gift for Eureka! Scholars
April 21, 2021
By Stacy Marshall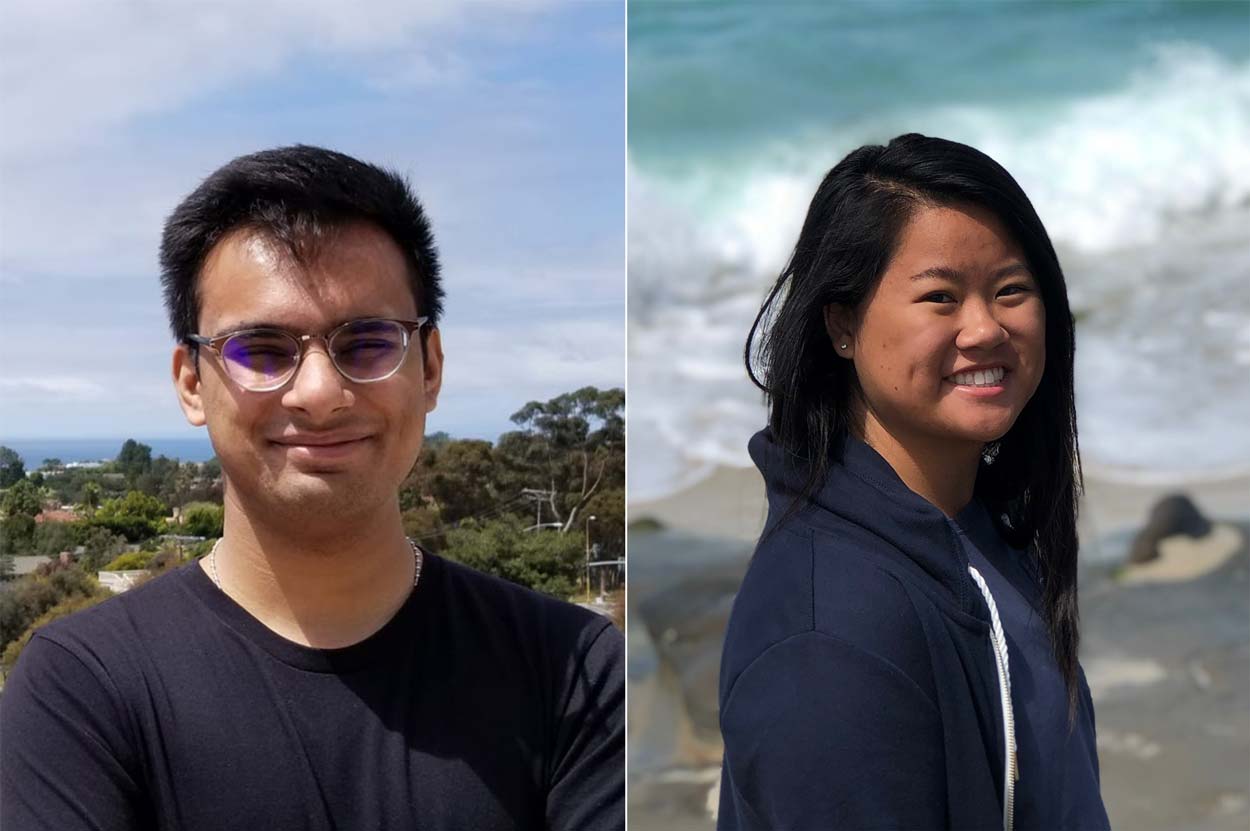 Biological sciences students who face obstacles on their path to college and career now have increased access to research opportunities through the Eureka! Scholarship Program at UC San Diego, thanks to a program expansion launched by a gift from The Ray Thomas Edwards Foundation.
The Foundation's gift of $155,000 provides six Eureka! Summer Research Scholarships and establishes a new endowment fund to support a Eureka! Scholar every summer - and marks the debut of the program's wider reach. The expansion introduces new criteria designed to benefit promising students who face obstacles that limit their access to research opportunities, including first-generation students and those with high financial need.
As a supporter of programs in the Division of Biological Sciences for nearly two decades, The Ray Thomas Edwards Foundation was already familiar with the life-changing impact of the Eureka! Summer Research Scholarship, which provides outstanding biology students with resources to dedicate themselves full-time to critical hands-on lab work. This gift advances its goals of enabling student success now and in the long term, broadening access and affordability and inspiring others to support science education.
"Every Eureka! Scholar I've met has been enthusiastic," said Foundation trustee and founding chair Don Yeckel. "They absolutely loved their summers as Eureka! Scholars, not having classes or working-just doing science. That kindled in me a real appreciation for the program."
A growing spectrum of opportunities
But the gift's impact goes even further, contributing to a larger vision: building resources in the Division's continuum of support, designed to empower students from before their arrival at UC San Diego through early career development.
By providing support opportunities for aspiring scientists at all levels - from high school through PhD programs - the Division aims to attract top students and create a diverse pipeline of talent for the biotechnology workforce.
Support begins at the high school level, including opportunities such as the Preuss School at UC San Diego and the Harvey Mudd Upward Bound summer internship program. Students from undergraduate through PhD programs have access to an array of opportunities through scholarships, fellowships, mentorships and internships. Serving as a central hub for these resources is the BioSci Student Success Center, with future plans for a physical space where students, staff, alumni and the community can connect.
Philanthropists have been playing a crucial role in building this continuum, from undergraduate scholarships in the Eureka! program to the Contiguous BS/MS Program to MD/PhD programs - recently boosted by a major gift from the Shurl and Kay Curci Foundation to support new PhD students in the life sciences. Through gifts such as these that enhance the Biological Sciences continuum, donors are supporting students in all phases of their experience at UC San Diego.
These contributions build on a strong foundation of philanthropic support that established early programs in the continuum, with gifts such as those from David Goeddel '72 for the David V. Goeddel Chancellor's Fellowship and David V. Goeddel Endowed Graduate Fellowship; and Wendy Kwok '99 for the BrightSpinnaker Endowed Fellowship for graduate students in the Contiguous BS/MS Program, which offers support to first-generation students and those with financial need who demonstrate a commitment to community service, and the Alstroemeria Endowed Fellowship in Plant Biology, supporting PhD graduate students conducting research in plant sciences. The Division of Biological Sciences team envisions the potential for this momentum to continue, with one gift inspiring the next.
While the Division builds this continuum of student support, rankings tell the story of a rising academic powerhouse. The biology PhD program is #1 in the nation, according to the National Research Council. The university ranks #1 for women graduating with a biology degree, and #1 for underrepresented minority students graduating with a BS in biology. UC San Diego has been recognized as the nation's sixth best public university, according to U.S. News and World Report's 2021 Best Global Universities, and ranks among the top 10 universities in the world in seven subject areas and among the top 20 in 11 subject areas.
From student support to real-world impact
Stories of student success also help fuel the momentum of giving. Getting to know Eureka! Scholars in person and learning about their achievements inspires The Ray Thomas Edwards Foundation to continue championing science education. Eureka! Scholar Hannah Wang, BS '12, is grateful for the opportunity to get involved in research early on, and said Eureka! was instrumental in getting her interested in microbiology and viruses, then into medical school.
She subsequently started a pathology residency at Stanford, graduates this year, and will begin a fellowship in clinical microbiology with the goal of becoming a clinical microbiology lab director. She's interested in viruses that cause cancer and disease in immunosuppressed individuals.
"My recent research has been focused on developing novel diagnostics for COVID-19," Wang said. "I'm part of the high-paced Stanford virology laboratory that has gotten a lot of press this year. We developed one of the first FDA-authorized assays in the Bay Area, and helped make testing available as early as March 2020 to our local communities while CDC testing was still limited.
"It's definitely been incredibly rewarding to be able to contribute to the scientific and medical community during this pandemic, and this all would never have been possible if I hadn't had the support to get into research as a first-generation student."
Philanthropic gifts, like the gift from The Ray Thomas Edwards Foundation, contribute to the Campaign for UC San Diego-a university-wide comprehensive fundraising effort concluding in 2022. Alongside UC San Diego's philanthropic partners, the university is continuing its nontraditional path toward revolutionary ideas, unexpected answers, lifesaving discoveries and planet-changing impact. To support Biological Sciences, please contact our Development Team