Ph.D. Program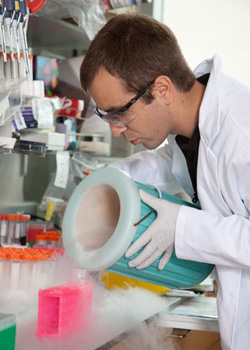 The philosophy of the PhD program, along with the Affiliated Ph.D. Program with the Salk Institute for Biological Studies, is to provide world-class research training in the basic biological sciences to equip a diverse group of trainees for a variety of scientific careers ranging from academia and industry to education, communication, or policy. Core principles of the program are to be student centered and attuned to the goals of the trainee.
The core curriculum focuses on development of core competencies and transferable skills in critical thinking, communication, and leadership. The first year prepares students for the core of the PhD program, the development of intellectual independence and creativity through original thesis research, guided by a thesis advisor and committee. Students have a high degree of flexibility in choice of thesis advisor through the rotation program. Throughout the program, there is strong emphasis on engaged mentoring through regular committee meetings, annual reports and Individual Development Plans.
As a central hub of the thriving San Diego biosciences community, the program maintains strong partnerships with other campus units and programs through joint faculty appointments, organized research units, and research collaborations, enabling a wide range of interdisciplinary opportunities. The mission is to conduct leading edge research in the basic biological sciences. Major areas of emphasis currently include structural biology, cell biology, developmental biology, neurobiology, immunology, microbiology, virology, plant biology, ecology, and evolutionary biology. Research in the School has emphasized studies using model organisms or in vitro mechanistic approaches, with human studies and clinical research concentrated in other departments or in the Health Sciences. Current and future areas of growth include quantitative biology, data science, and the biological consequences of climate change.
The training philosophy embraces the following principles:
Rigor, reproducibility, and responsibility as hallmarks of high-quality science
Commitment to quality mentorships, student mental health, and well-being
Equity, Diversity and Inclusion as integral to program admissions and retention
Open science practices valuing multiple research outputs and holistic assessment of scholarly excellence
Communication and outreach as key aspects of scientific training
As a doctoral program embedded in a large undergraduate instructional unit, our approach incorporates substantial training in teaching methodology and best practices. Our philosophy remains that teaching and research are interdependent facets of engaged scholarship.
PhD Program Overview of Academic Requirements (General)
PhD Program Overview of Academic Requirements (EBE)