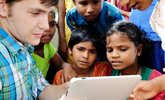 Study Abroad as a Biology Major
UC San Diego offers several options for students to take advantage of opportunities abroad. Options range from summer to yearlong programs for UC credit, as well as work, internship, and volunteer abroad opportunities. Visit the UC San Diego Study Abroad Office to start your search for the right study abroad program for you!
The experience of studying abroad can assist you in the following ways:
Give you an experience of a lifetime.
Set you apart and improve your resume by showing recruiters that you possess international skills. Skills that many students do not possess - less than 1% of U.S. college students study abroad annually.
Widen your social network by meeting students and professors from around the world.
Expand your mind by learning a new culture and seeing the world from another perspective.
Add to your skill set by learning new techniques and approaches in biology that might not be taught at UC San Diego.
Going Abroad as a Biology Major- Helpful Tips
The Student Experience: Global Seminars Abroad
The Student Experience: Natural Reserve Programs
Begin the Journey
Start doing online research and attend information sessions at least one year before you plan to go abroad. This will help you determine the best time of year to go abroad and whether you're prepared academically.
Determine which program best fits your needs - UC Education Abroad Program (including the Global Seminar program) or the UC San Diego Opportunities Abroad Program (OAP).
If possible, we recommend your lower division and foundational major coursework be complete prior to studying abroad. These courses include, general biology, general chemistry, mathematics, physics, organic chemistry, genetics and biochemistry.
Review coursework that could potentially satisfy UC San Diego college and major requirements (previously petitioned courses).
After you select the study abroad program you would like to pursue, you will need to have paperwork signed by your major department. If you are planning to attend the Education Abroad Program (EAP) or the Opportunities Abroad Program (OAP) **, you will need the Division of Biological Sciences to review your Academic Planning Form.
To obtain department signature on your Academic Planning Form, please review Advising Services and follow the instructions for Form Submission.
If you would like to obtain major credit, please review the previously petitioned courses list before filling out your Academic Planning Form.
**If you plan to study abroad via OAP, your Academic Planning Form will need to be reviewed by the UC San Diego Admissions office FIRST, then your major department, and your college last.
All courses taken abroad for the major must be approved by the Biological Sciences Student and Instructional Services Office. Approval may be granted in two ways:
1) Take a course from our list of previously petitioned courses list. 
2) Request that a course not on the list be reviewed by petition.
As a reminder, preapproved and petitioned courses taken abroad must meet Minimum Criteria to be considered for use in the major.  Courses that need to be petitioned are not guaranteed to be approved.
Students who wish to apply abroad courses towards the major must initiate the process. Biology Advising staff will NOT automatically review study abroad courses or update student records. If your courses have been preapproved or you need to petition them, please contact us via the Virtual Advising Center.
Related Links
Questions? Contact Student & Instructional Services (Pacific Hall 1128) through the
Virtual Advising Center
(VAC) or by phone at (858) 534-0557.